How to Ensure the Stairs are Safe for Someone Elderly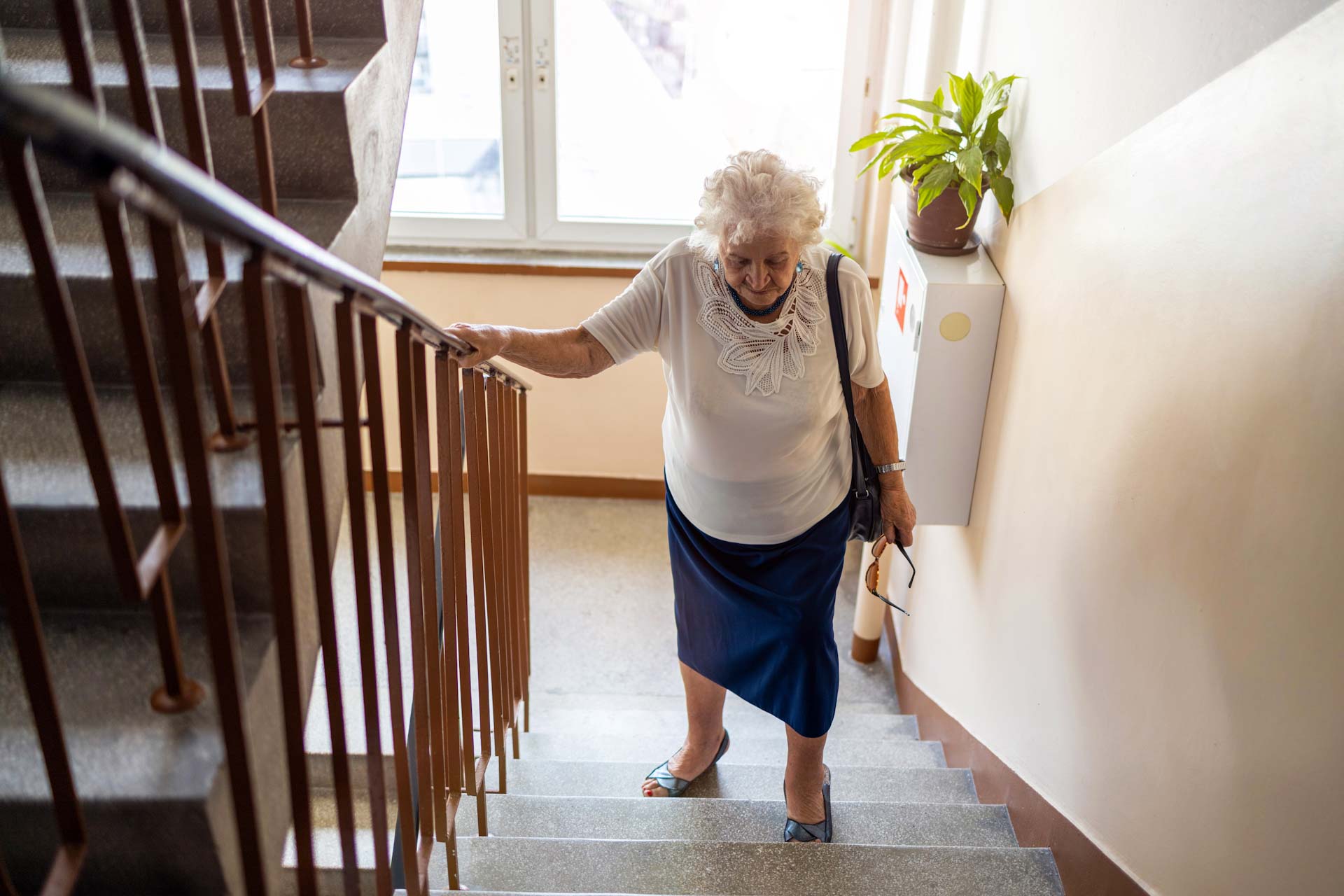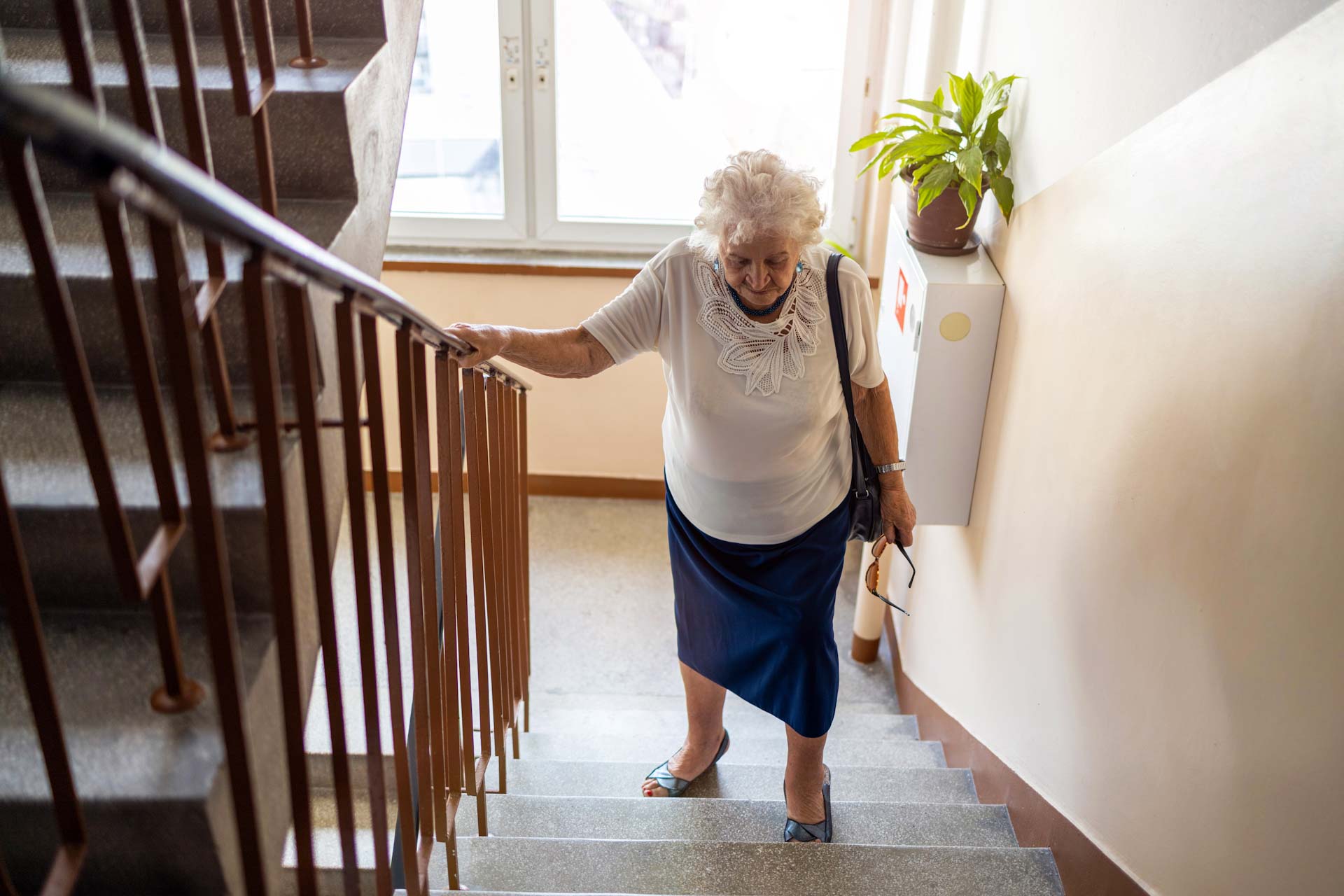 Tips to keep safe on the stairs
One of the most dangerous places in the home can be the stairs as you begin to age.  It is easy to lose your balance and the consequences of a fall can be quite significant, especially if you are suffering from a condition such as dementia.
It's probably the area in the house that you worry about most. After all, falling down the stairs can cause serious injury. If you have a trip or fall, even if it doesn't cause much physical harm, it can shatter your confidence.  It can leave you feeling more reliant on others and scared about your daily routine. But the good news is that there are lots of ways to prevent any of these disaster scenarios from ever happening.
Natural aging can affect a person's depth perception, which can mean they have difficulty finding or stepping onto the next level correctly. This can have a real impact on their ability to walk up the stairs to get to a bathroom or bedroom.
Why are stairs unsafe for people as they get older?
As most stairs are all carpeted in one colour stepping onto them can be quite confusing for your loved one.  Deteriorating eyesight and conditions such as early on-set dementia can affect parts of the brain that deal with depth perception and colour contrast. This means that it's much harder for them to detect the slight distinction in colours or shadows on the tread and the riser.
As they lose strength and muscle mass it can also be harder for people to maintain a good posture or gait.  This can lead to more trips and falls everywhere but it is obviously more serious on the stairs.  Also, the capacity to grab the banister and steady yourself if you lose your footing is also diminished.
Finally, as people age, there is often an impact on their balance which causes an obvious concern on the stairs.  Any one of these could cause a fall but if your loved one is experiencing all three…..
Here's some advice on how lessen the risks associated with the stairs as we grow old:
Improve lighting in the hall and landing
Lighting throughout the home is extremely important, but, particularly around the stairs, where trips and falls are more likely.
You must make sure there is enough lighting on the stairs all the way from the top to the bottom.  You should also make sure that there are no shadows.  Shadows can cause problems for people's perceptions, especially those living with dementia.
Make sure that any lights on the stairs can be switched on and off from both top and bottom.  Consider making the light switch easy to spot by making it a contrasting colour to the wall it is placed on.
Reduce the number of times they need to use the stairs
The less people must go up and down stairs the less chance there is of a fall.  Try and help them by ensuring that they don't have to keep going upstairs to get things during the day.  Talk to them about ensuring that they only go up if they need to.  Maybe use a commode if there is no downstairs toilet, and ensure they bring their books or other hobby equipment down with them in the morning.
Basically, anything that reduces the occasions you need to use the stairs reduces the risk!
Don't carry too much
Ideally, you shouldn't carry anything when using the stairs, especially as your risk of falling increases.  But we don't live in an ideal world, and you may need to bring things down with you in the morning.  Or indeed take things up with you in the evening.
If you do need to carry things whilst on the stairs only carry with one hand and use the other one on the banister.  This may not be an easy thing to do but is vital that you do it.
This may mean planning ahead and asking a friend, family member, or carer to get things for you.  So do so!
Think about ramps
If you have small flights of stairs that can be replaced with a small ramp consider doing so.  A couple of stairs or even the odd step can be just as big a hazard as a full flight of stairs.  Often because they're less noticeable!
Ramps can be a useful addition to cover up steps or provide an alternative route to walk down. They're especially useful for people who need mobility aids to get around.
Get rid of trip hazards
Remove any clutter on or around the stairs.  Make sure they are as safe as possible by removing anything that could cause trips or falls.
This could include items left on the stairs to go to the rooms upstairs, rugs, or threadbare carpets that could catch people as they're walking up or down them.
Consider handrails and stair aids
Stairs feel much safer if you have something to hold onto. While many stairways already have a banister to hold onto, some don't. It is vital that you get one as soon as possible.
You may also want to consider getting a second banister on the opposite side.  Many people need to use both hands to stay safe on the stairs.  Others have one strong and one weakened side.  Especially those that have experienced a stroke, where there is significant weakness on one side.  For these people it is essential they can use their strong hand going up and going downstairs.
Is it time for a stairlift?
If mobility has become such an issue that the person, you're caring for can no longer get upstairs safely or without help, they may need to get a stairlift.

This is a big decision and a big conversation, but one that may be worth having.

if (is_page(821)) { //.Archive__post h5.Vacancy__title::after ?> } ?>