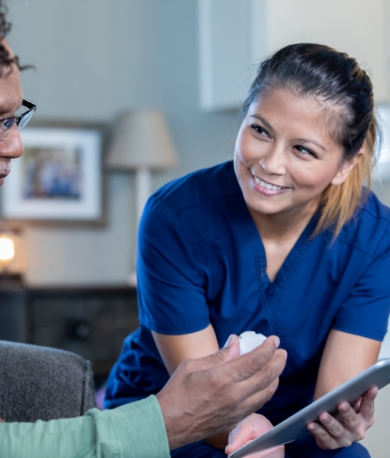 All you need to know
Our care needs assessment is the first step in starting your care journey with us. Our Care Services Manager will come to your house to chat through your daily life and talk about what care and support you need and why.  It's a chance for us to get to know you and you to get to know us and  will set out ways to help you live as independently as possible in the home you love.
Our needs assessment is then used to create a personalised care plan and cost plan based on your requirements, your home and the times and visits you would prefer.
How do you apply for a care needs assessment?
It's simple, just contact us through the website or call us on 01234 359640 to have a friendly chat, we will then organise a date and time convenient to you to pop round and carry out your needs assessment.
How quickly will I be assessed and what does it involve?
We aim to make an appointment within a few days of your initial call. We always prefer to carry out our care needs assessment face-to-face so we can really get to know each other. We find it is often easier to get to the root of the problem face-to-face and in your actual home surroundings.
Our Care Services Manager will discuss with you how you feel you're coping with a variety of everyday tasks and what your concerns might be.  The care assessment will normally take about an hour and is a chance for us to get to know and understand your situation and discuss how we can help support you.
 What questions will we ask you at the needs assessment?
The conversation will go into a lot of detail and cover all the most important aspects of your day-to-day life. This will include:
Your physical health
What you find challenging in everyday life
Your social life and support network,
What you enjoy doing, and what your normal day looks like
Your views, religion, and culture
How we can help improve your life and keep you independent
How you would like to receive any care– what days and times, what type of support and the type of carer you might prefer.
After speaking with you during your needs assessment, and with your prior consent, we may also seek to talk to other health and social care professionals involved in your case, such as a nurse or GP.
What happens after the Care Needs Assessment?
After our assessment meeting, we will collate our findings, match you with a suitable carer and present our care plan. We will send you a copy of our plan and then arrange to talk through the detail and costs either by phone or in person, answering any questions you may have.
Tips for getting the most out of a needs assessment
Talking about needing extra care and support is not always an easy conversation but we will do everything to make you feel at ease. We are here not only to assess your needs but also to answer any questions or concerns you may have.  There are a few things you can do before the assessment to make sure that you're fully prepared for it and that you can give and receive all the information you want.
Keep a diary of your care needs
Try to give as much detail about your good days and bad days, and how this has impacted you and others. It's best if we can get the clearest picture possible of your lifestyle and needs for now and  in the future.
Get local information and advice
Your local Council will have a wealth of information for you and can also help talk you through funding options available, there are also lots of charities and resources to get advice from.
Have someone with you during the assessment 
If you are nervous or unsure it's fine for a loved one to be there and give you support. This may help you to feel more prepared and confident.
We understand that a care needs assessment might be something new and something you might worry about and yes, the idea of needing extra help can feel frustrating and stressful.  We do everything we can to make you feel as comfortable as possible, it is a great opportunity to really explore what your situation is, both understand what your needs will be, and help you to create a plan to stay in your own home and live as independently as possible.  Please contact us for a friendly chat
Find out more about Care is Central
if (is_page(821)) { //.Archive__post h5.Vacancy__title::after ?> } ?>